CINEMATRIX FOUNDERS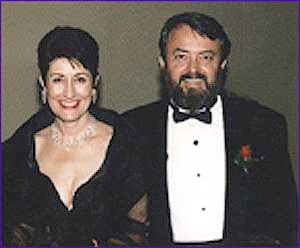 Rachel Carpenter has served as CEO and Producer for Cinematrix Interactive Entertainment Systems® since the introduction of its patented audience participation technology in 1991. Creating environments that encourage people to explore their own creativity is the driving passion that connects all these experiences.

While corporate theater events have been a mainstay for Cinematrix, there have also been installations produced for the public in both the United States and Europe. These fixed sites have included "Bug Battle" for "The Bug House" entertainment center with Buena Vista Pictures; "The Brazil Exhibit" at EPCOT's Millennium Village with Walt Disney Imagineering; "Cine Jeu" for Parc du Futuroscope in Poitier, France; "Interactive Games" for Cinemaxx theaters in Germany, and "Play Theater" for the Millennium Dome in Greenwich, England.

Her career in Visual Communications began in education, teaching children and teachers. Washington State Superintendent of Schools commissioned her to write a book entitled "Visual Arts", which was used as part of a statewide program Arts in Education. Upon moving to California she began working with the national organization SIGGRAPH (Special Interest Group on Computer Graphics of the Association for Computing Machinery) as Art Show Coordinator ('85), Animation Screening Room Curator ('89), and Panel Moderator ('89). She produced the Cinematrix audience participation experience in the prestigious SIGGRAPH Electronic Theater shows in '91, '94 and '98.

As a natural extension of her work concentrating on the humanistic use and development of technology in live audience environments, she received a Masters of Arts degree in June '95 in Social and Cultural Anthropology from the California Institute of Integral Studies in San Francisco, California. Her thesis Techno Tribe researches the human experience of the new communications technology Cinematrix Interactive Entertainment System® through interviewing participants at the international events ARS Electronica in Linz, Austria and SIGGRAPH '94 in Orlando, Florida.

Both her professional and academic pursuits are engaged in an ongoing quest to understand and harness the power of the group dynamic by continuing to explore applications for the Cinematrix communications technology.

---
Loren Carpenter, inventor of the CINEMATRIX Interactive Entertainment Systems® audience participation technology, holds multiple patents and has received numerous awards for inventing breakthrough computer imaging technologies. All of these have the aim of actualizing the imagination and giving storytellers new tools to expand their capabilities.

In addition to receiving the third SIGGRAPH Technical Achievement Award, being made an ACM Fellow in 1995 and in the same year Distinguished Alumnus at the College of Engineering of the University of Washington, he was honored for the second time by the Academy of Motion Picture Arts and Sciences with the presentation of an Oscar® in 2001. That award recognized his fundamental discovery that enabled computers to manage the massive amounts of geometry needed for digital film-making. This contribution benefited the entire film industry through the creation of software such as RenderMan® to make three dimensional animated movies like Toy Story, A Bug's Life, Toy Story 2 and Monsters, Inc. possible, as well as the creation and integration of visual effects elements in live action films.

While attending the University of Washington, for his Bachelor's Degree in Mathematics and Master's Degree in Computer Science, he was employed by The Boeing Company as a software engineer, where he advanced the state of the art in image synthesis with now standard algorithms for rendering images of sculpted surfaces and fractal geometry. His 1980 film "Vol Libre" is recognized as the world's first fractal movie. Later, as part of the the Lucasfilm Computer Division, he used this same technique for the 'Genesis' sequence in "Star Trek II: The Wrath of Khan"; so spectacular that it was used in the next three Star Trek movies. Another achievement was the creation of the star renderer for the 1997 Academy Award nominated Cosmic Voyage, an IMAX film produced for the 150th anniversary of the Smithsonian Institution.

Loren is currently Senior Scientist at PIXAR Animation Studios, creators of blockbuster animated feature films released by Disney.